Designed for Microsoft Windows 2000 only. Being a freelance software developer I use a laptop to easily move from client to client. I was tired of constantly opening the Network and DialUp Connections applet to manually change the TCP/IP settings to match my current client's network. This application will allow saving/restoring those TCP/IP settings using a simple notification window (aka SysTray) icon.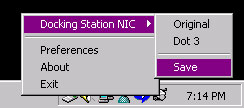 Download IpManager now!
The download is a Windows Installer 2.0 "Install From Web" application. As such it is best to select "Run from current location" on the download dialog as what is downloaded is simply the bootstrap portion of the install. The files will be downloaded, on demand, from this server.
View the ReadMe from the IpManager install.
Who else has been downloading IpManager?